Episodes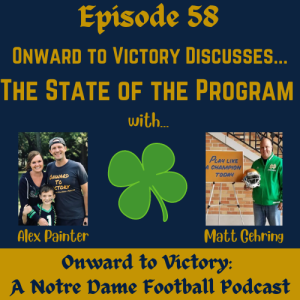 Sunday Feb 20, 2022
Sunday Feb 20, 2022
Just in time for President's Day, Onward to Victory discusses the 'State of the Program' as the Fighting Irish heads into the 2022 spring season.
Oh, and a very special day - a new member of the OTV team is making a debut! Folks, you are going to love new contributor Matt Gehring's insight and knowledge into the program. Not only will Matt, who is a veteran at covering the Irish, be joining for select episodes, but he will be helping with the brand new website as well! Psst, head over to OnwardToVictory.blog! 
Alex and Matt will be discussing the new 2022 class, coaching staff, and upcoming schedule, among many other topics of interest!